Despite a growing economy, a new survey has found that the financial pressures of student debt, persistent confusion about the mortgage process and a continuing nationwide marriage rate decline are important factors combining to slow the housing market.
The third annual America at Home survey from NeighborWorks America, found that student loan debt continues to grow as an obstacle in a consumers' ability to buy a home, as 57 percent of 2015 respondents who acknowledge having student loans says this debt was either "very much" or "somewhat" of an obstacle, compared to 49 percent of 2014 respondents.
Additionally, although mortgage rates remain historically low, a generally steady rise in home prices is outpacing income growth, leading homebuyers – especially first-time buyers – to search for ways to build up a down payment. However, nearly 40 percent of respondents have received "nothing at all" in terms of information about down payment assistance programs for middle-income homebuyers, programs that could provide thousands of dollars to help bridge a savings gap.
Finally, the housing market is being pressured by changing demographics. Of the respondents surveyed, 43 percent planned to purchase a home when they "got married or moved in with a life partner." This is important for the housing market's rebound, because the median age at first marriage has increased to 29.3 for men and 27.0 for women, according to the Census Bureau, up from 26.8 and 25.1 years, respectively in 2000.
"It's clear the housing market is directly affected by many factors, and these forces identified in our survey are putting strong downward pressure on growth," says Paul Weech, president and CEO of NeighborWorks America. "While NeighborWorks can't address the demographic shift, we are increasing our efforts to support nonprofits that offer homebuyer education and financial capability coaching."
Additional findings from the survey suggest other areas where increased homebuyer education could energize the housing market:
Consumers have trouble estimating the accurate costs associated with homeownership and general home maintenance. Respondents estimated an average cost of $15,070 for home maintenance repairs; however, the actual cost for home repairs and upkeep nationwide is more likely between $2,000 and $6,000. While current homeowners estimated cost for repairs to be $12,360, current renters estimated $20,503, suggesting that those consumers in the market for a new home might be deterred by perceived high maintenance costs.
Respondents lack adequate information on the consequences of foreclosure. While 32 percent of respondents believe they would have to wait "more than 5 years" after a foreclosure before they were eligible to obtain a new mortgage to purchase another home, the reality is consumers who have experienced a foreclosure need only wait two years before becoming eligible for most mortgage products.
"These findings reveal that Americans are not receiving adequate information about the home buying process," says Weech. "With 42 percent of consumers using friends and family as primary sources of information about purchasing a home, it is incumbent upon organizations like NeighborWorks to ensure consumers take advantage of the many housing resources available. It's understandable that Americans looking to purchase their first home are intimidated by obstacles such as student debt, lack of a down payment and weak credit, so it's critical that first-time homebuyers have access to information and programs such as down payment assistance and affordable loans so they feel confident in purchasing a home independently."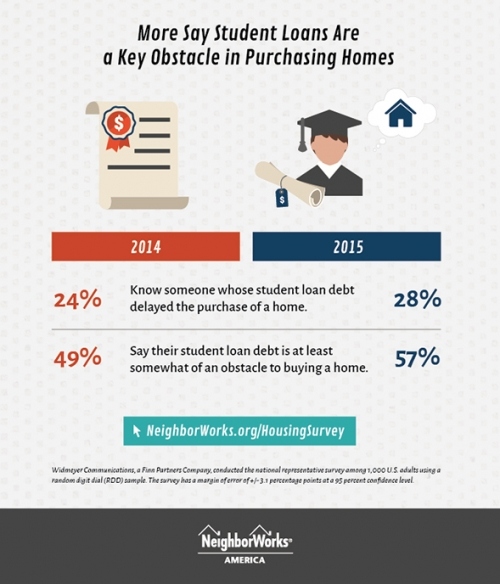 For more information, visit neighborworks.org.

Reprinted with permission from RISMedia. ©2015. All rights reserved.